If you're a Firefox 57 user (aka Firefox Quantum, currently in Beta and releasing November 14) with legacy extensions installed, we've introduced a new feature to help you find compatible replacements.
In the Add-ons Manager (Tools menu > Add-ons), click on "Show legacy extensions" to see a list of your incompatible extensions.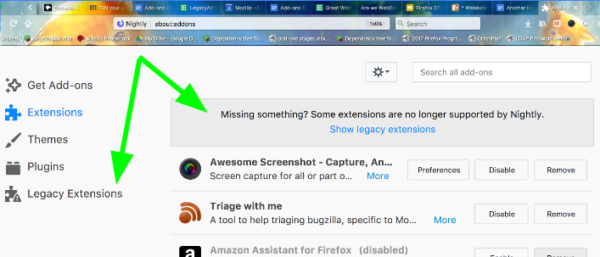 Click on "Find a Replacement", and you will be taken to the AMO page of a compatible alternative.
If an exact replacement hasn't been identified, you will land on the Featured Extensions collection, which lists only compatible extensions.
For legacy tab extensions that couldn't migrate at this time because of unavailable APIs (some of which are being developed and prioritized for release in the coming months), the "Find a Replacement" button directs you to a curated collection of compatible tab extensions.
Finding Alternatives Before Firefox 57
Since many developers are updating their extensions close to the Firefox 57 release, we didn't want to start recommending alternatives until the last minute. That's why this feature only exists in version 57 and later. However, if you are currently using Firefox 56 and want to start looking for alternatives to extensions that are not likely to become compatible, there is an Extension Finder utility that you might find helpful.
Not Too Late to Migrate
For developers of legacy extensions who may be in the process of migrating, or have plans to do so in the future, please note that once your extension is compatible, your users will no longer be prompted to find a replacement, and your current users will automatically get the updated version.
So you may still want to update to the WebExtensions API, even if you can't get it done in time for Firefox 57. For more information on how to migrate legacy extensions, please see this guide.
The post Helping You Find Compatible Extensions appeared first on Mozilla Add-ons Blog.