If you are using Firefox Nightly right now, you may have noticed that the latest update of the web browser disabled all legacy add-ons.
Firefox Nightly is the first version of the Firefox web browser that hit version 57, the version of Firefox that drops support for so-called legacy add-ons in favor of WebExtensions.
Nightly is the cutting edge version of the Firefox browser. Development lands in Nightly first, is then moved to Beta before it lands in the release versions.
Legacy extension support will be dropped when the Beta version is updated to version 57 on October 10, 2017, and when the Release version of Firefox is updated to version 57 on November 14, 2017.
Nightly is special, as users of Firefox Nightly may bypass the restriction that blocks the usage of legacy extensions in the browser. The switch won't be part of Firefox Beta or Release.
Legacy Extensions in Firefox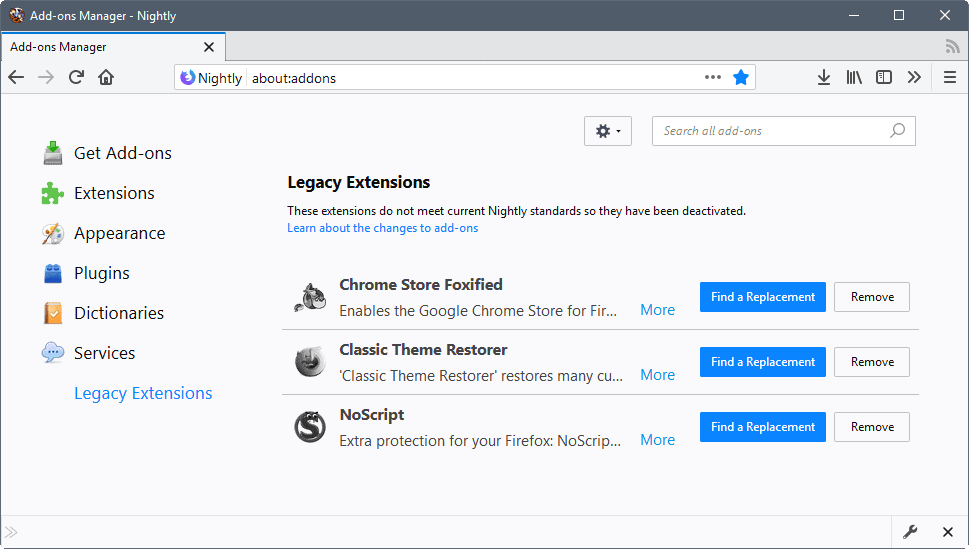 We talked about options to run legacy extensions in Firefox when Firefox 57 is released before; one of the options mentioned in the article was to use Firefox Nightly and configure it to run legacy extensions. It was not clear back then how that would work, and this guide reveals the process to you.
Note though that some legacy extensions break in Firefox 57 and newer, even if you enable support for them. The main reasons for that are changes to code that extensions rely on for functionality.
Firefox 57 lists disabled add-ons under legacy extensions on the about:addons web page. A "find a replacement" option is shown next to each legacy extension. A click redirects users to Mozilla's AMO website where replacement WebExtensions are listed.
This does not work properly right now, but that is to be expected considering that Nightly is a development version. One issue with the replacement option is that there are not replacements for some legacy add-ons.
Classic Theme Restorer is a prime example as WebExtension's cannot replicate the functionality of the Firefox legacy add-on.
Enable legacy extensions in Firefox Nightly
To enable legacy extensions in Firefox Nightly, do the following:
Load about:config?filter=extensions.legacy.enabled in the Firefox address bar.
Double-click on extensions.legacy.enabled to set the preference to true.
Restart the Firefox web browser.
You enable support for legacy extensions in Firefox Nightly if you set the preference to true. The default value is false which means that legacy extensions are not enabled.
Now You: If you use Firefox, what will you do when the browser hits version 57?
Ghacks needs you. You can find out how to support us here or support the site directly by becoming a Patreon. Thank you for being a Ghacks reader.
The post How to enable legacy extensions in Firefox 57 appeared first on gHacks Technology News.