Last Updated: 00:54 EDT May 5 2019
Some users are reporting that they do not have the "hotfix-update-xpi-signing-intermediate-bug-1548973" study active in "about:studies". Rather than using work-arounds, which can lead to issues later on, we strongly recommend that you continue to wait. If it's possible for you to receive the hotfix, you should get it by 6am EDT, 24 hours after it was first released. For everyone else, we are working to ship a more permanent solution. (May 5, 00:54 EDT)
There are a number of work-arounds being discussed in the community. These are not recommended as they may conflict with fixes we are deploying. We'll let you know when further updates are available that we recommend, and appreciate your patience. (May 4, 15:01 EDT)
Temporarily disabled commenting on this post given volume and duplication. They'll be re-enabled as more updates become available. (May 4, 13:02 EDT)
Updated the post to clarify that deleting extensions can result in data loss, and should not be used to attempt a fix. (May 4, 12:58 EDT)
Clarified that the study may appear in either the Active studies or Completed studies of "about:studies" (May 4, 12:10 EDT)
We're aware that some users are reporting that their extensions remain disabled with both studies active. We're tracking this issue on Bugzilla in bug 1549078. (May 4, 12:03 EDT)
Clarified that the Studies fix applies only to Desktop users of Firefox distributed by Mozilla. Firefox ESR, Firefox for Android, and some versions of Firefox included with Linux distributions will require separate updates. (May 4, 12:03 EDT)
Late on Friday May 3rd, we became aware of an issue with Firefox that prevented existing and new add-ons from running or being installed. We are very sorry for the inconvenience caused to people who use Firefox.
Our team has identified and rolled-out a fix for all Firefox Desktop users on Release, Beta and Nightly. The fix will be automatically applied in the background within the next few hours. No active steps need to be taken to make add-ons work again. In particular, please do not delete and/or re-install any add-ons as an attempt to fix the issue. Deleting an add-on removes any data associated with it, where disabling and re-enabling does not.

Please note: The fix does not apply to Firefox ESR or Firefox for Android. We're working on releasing a fix for both, and will provide updates here and on social media.
To provide this fix on short notice, we are using the Studies system. This system is enabled by default, and no action is needed unless Studies have been disabled. Firefox users can check if they have Studies enabled by going to:
Firefox Options/Preferences -> Privacy & Security -> Allow Firefox to install and run studies (scroll down to find the setting)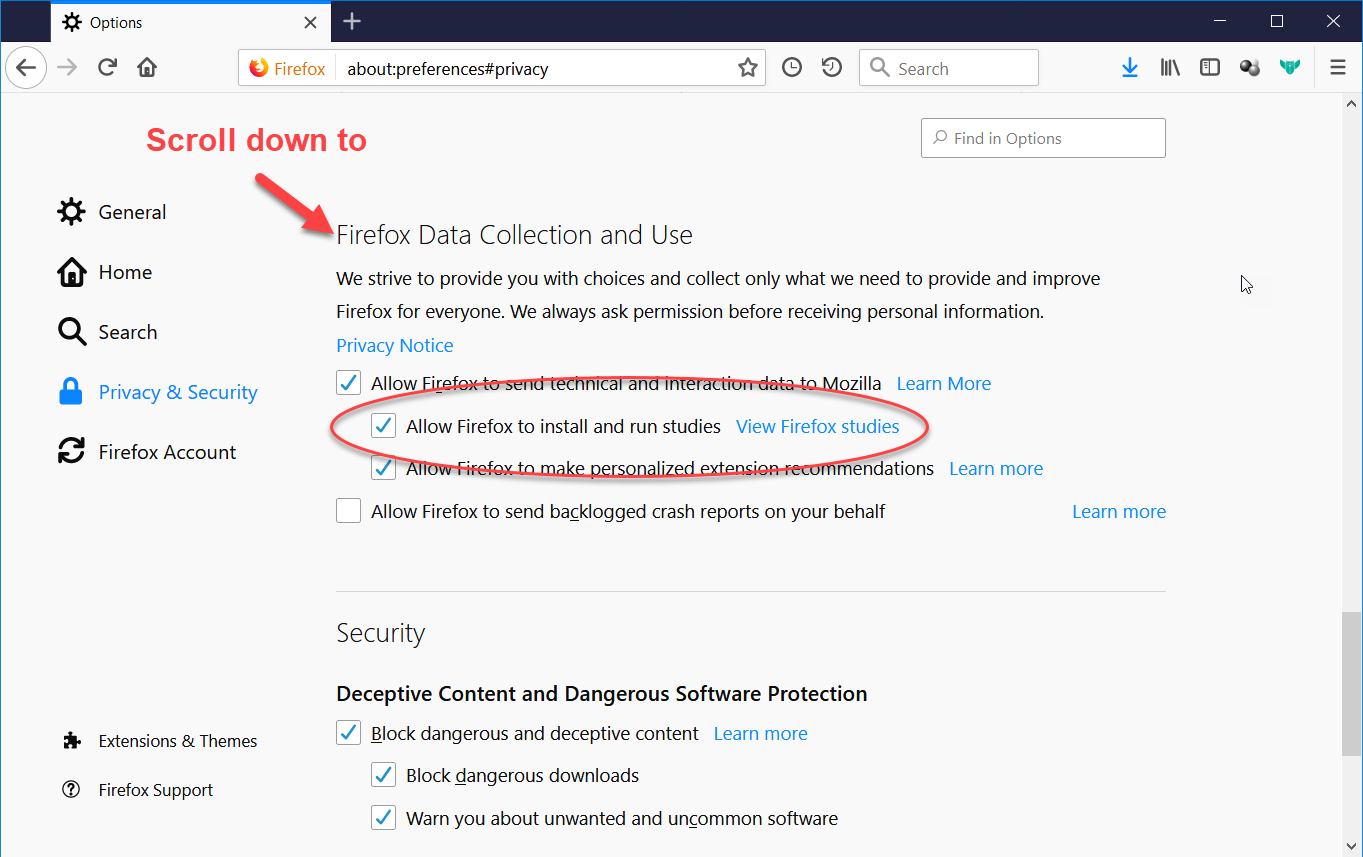 Studies can be disabled again after the add-ons have been re-enabled
It may take up to six hours for the Study to be applied to Firefox. To check if the fix has been applied, you can enter "about:studies" in the location bar. If the fix is in the active, you'll see "hotfix-update-xpi-signing-intermediate-bug-1548973" in either the Active studies or Completed studies as follows: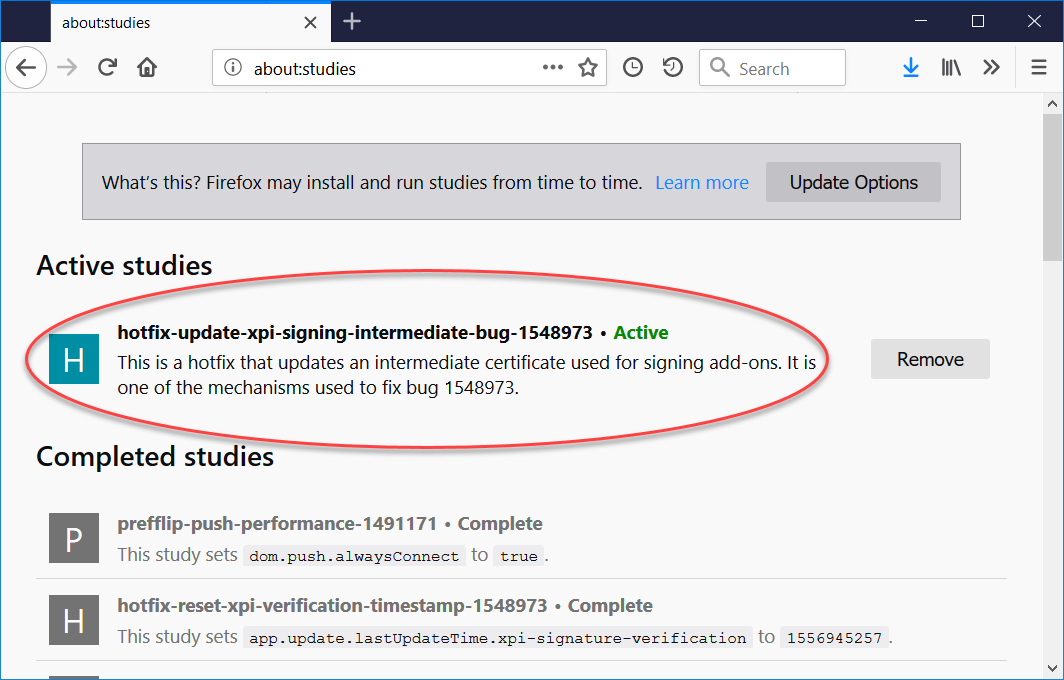 You may also see "hotfix-reset-xpi-verification-timestamp-1548973" listed, which is part of the fix and may be in the Active studies or Completed studies section(s).
We are working on a general fix that doesn't use the Studies system and will keep this blog post updated accordingly. We will share a more substantial update in the coming days.
Additional sources of information:
The post Update Regarding Add-ons in Firefox appeared first on Mozilla Add-ons Blog.